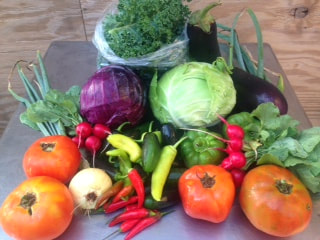 Our Farming Beliefs

Lundell Farms is a small family farm in Western Michigan where we believe in raising things the way nature intend



ed!



At Lundell Farms we raise food that we are proud of! Years ago we started off with a small garden and a few chickens in order to feed our family the best food possible. Over the years we have grown and now enjoy sharing that high quality food with others.

We strive to be environmentally and fiscally sustainable, as self-sufficient as possible, and to raise food that is healthy and safe for our family and yours!

All of our produce is raised organically. We start the natural process by being stewards to the land. We continually work to improve our soil with organic matter. On all of our property we refrain from using any synthetic fertilizers, herbicides or pesticides. We spend plenty of hours weeding! We compost the manure from our animals and use that as soil builder and fertilizer. Our produce is started by using a majority of heirloom seeds from varieties that have been handed down for generations. Heirloom varieties are never Genetically Modified and are known for their exceptional flavor. They do not always look perfect like what you may be used to in the grocery store, but once you taste them, you will see why we believe heirloom is the way to go!

These are the practices that, we believe, gives our product a superior quality and flavor.

Our animals are also raised in a more natural way. We feed only non GMO feeds that are sourced locally when possible. We never give our animals growth hormones. We do not feed antibiotics or any other medications as a standard practice. In the case that we have one of our livestock fall ill, we decide on treatment on a case by case basis. Allowing access to fresh air and pasture tends to keep the animals happy and healthy, as was intended in nature.

At Lundell Farms we focus on raising our food the way nature intended. We believe that is what is best for our bodies and this beautiful earth we live on.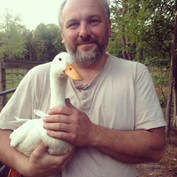 John Lundell Jr
Every farm needs someone that is a Jack-of-all-trades, and we are very lucky to have John! His skills are immense and keep him busy on the farm. Growing up he spent many hours on his grandparents' farm in rural, Montague Mi., and did not realize that what he was learning would benefit him in his adult years. John's main focus at Lundell Farms is acquiring and maintaining the farm equipment and structures. John is also in charge of deciding on, sourcing, and acquiring, either through purchase or growing, proper nutrition for the animals.


Lori Lundell HC
As a certified holistic health coach Lori enjoys sharing the importance of high quality food with others. This is a perfect match to her responsibility of sales and marketing on the farm. Lori is also in charge of customer contact, CSA management and the overall aesthetic appeal of the farm. As a child, Lori spent quality time with her dad in his organic garden and raising laying hens. From this she learned the benefits of growing organically with nature. Together with John, they have taken this knowledge to the next level and seek to share it with others.